Profesores de la UAB participan en un intercambio académico en Vietnam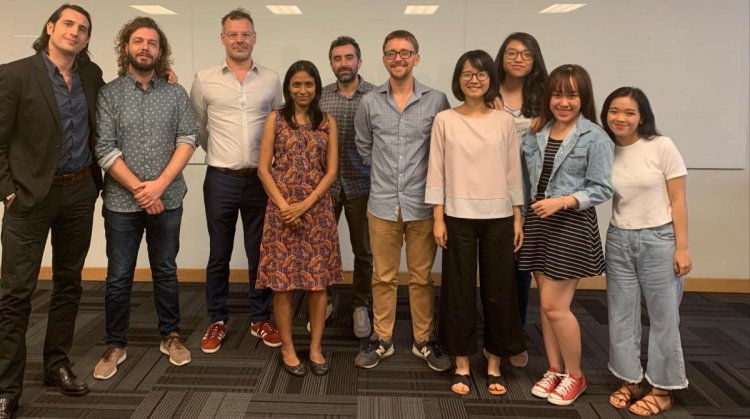 Los profesores Santiago Tejedor, Ricardo Carniel y Santiago Giraldo del Departamento de Periodismo y Ciencias de la Comunicación de la UAB han participado durante esta semana en un intercambio académico con la RMIT University de Vietnam.
"Este intercambio constituye un avance en las futuras colaboraciones entre ambas universidades con el objetivo de compartir  proyectos y experiencias en el ámbito docente y de investigación", apunta Santiago Tejedor, director del Departamento de Periodismo y Ciencias de la Comunicación de la UAB. Por su parte, Ricardo Carniel considera que "compartir ideas y conocimientos con profesores y estudiantes de contextos tan distintos nos ayuda a mejorar como docentes". Para Santiago Giraldo, "las universidades deben esforzarse por establecer colaboraciones de este tipo que contribuyan a la reflexión y al debate".
Los docentes han impartido una serie de talleres sobre comunicación digital, nuevos medios, producción de contenidos digitales y tendencias del sector. Además han participado en un seminario de investigación con diferentes docentes de RMIT University.
Las sesiones impartidas han sido sobre temas como: "Social Media creates differentiation", "Communication in the new era of social media", "How social media changes advertising" y "Writing for the media or social media", entre otros.
La visita servirá para establecer vías de colaboración e intercambio entre la UAB y la RMIT University con el objetivo de generar proyectos, investigaciones y actividades conjuntas a futuro. La RMIT es una universidad fundada en 1887 en Melbourne, Australia, que se estableció en Vietnam en el año 2000. Hoy en día cuenta con dos sedes en el país asiático, una en Hanoi y otra en Ho Chi Minh y se posiciona con cinco estrellas en la clasificación QS por excelencia en educación superior.