David Jiménez conversará con los futuros periodistas de la UAB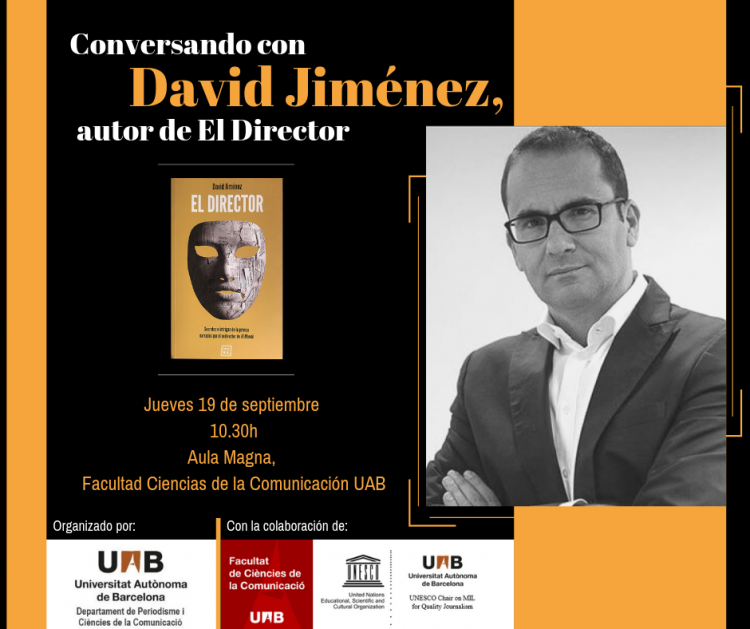 En el marco del inicio del nuevo periodo académico, David Jiménez, periodista y escritor, conversará sobre los retos del periodismo en las nuevas generaciones y sobre su último libro El Director. El evento, organizado por el Departamento de Periodismo, se llevará a cabo el jueves 19 de septiembre, a las 10:30h, en el Aula Magna de la Facultad de Ciencias de la Comunicación de la UAB.
Jiménez comenzó su carrera como periodista en 1994 para el diario El Mundo, trabajando como becario de las secciones de Madrid y Sociedad. En octubre de 1998 inauguró la primera corresponsalía del periódico en Asia, donde cubrió los grandes acontecimientos de la región hasta 2014. Tras obtener una beca Nieman en la Universidad de Harvard, regresó a Madrid para hacerse cargo de la dirección de El Mundo, con la misión de sacar al diario de su crisis y liderar su transformación digital. Ha escrito y publicado reportajes para The Guardian, The Toronto Star, The Sunday Times, la revista Esquire, entre otros. También ha colaborado para las cadenas de televisión CNN y BBC.