Study on the current trends and approaches on Media Literacy in Europe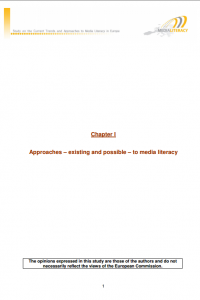 Estudio realizado por tres instituciones educativas europeas con el objeto de identificar las tendencias en materia de alfabetización mediática en la Unión Europea de los 25.
Se centra en el estudio y análisis de los diferentes modelos y estrategias que la Unión Europea (UE) ha desarrollado en la última década con el objetivo de adaptarse a la nueva y cambiante coyuntura comunicativa y social. Con el objetivo de establecer cómo la UE se ha adaptado a este nuevo panorama, se identifican y describen los principales modelos de alfabetización (desde la digital hasta la mediática) aplicados en los últimos diez años.