Anuario MILID 2015: Media and Information Literacy for the Sustainable Development Goals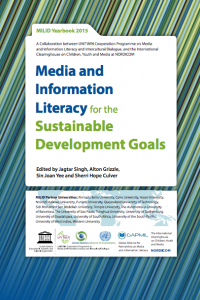 El anuario, publicado por NORDICOM (Nordic Information Centre for Media and Communication Research), ha sido destinado en esta tercera edición a explorar los avances de la alfabetización mediática e informacional frente a los objetivos de desarrollo sostenible. La publicación cuenta con una treintena de artículos, entre los que se destacan investigaciones prácticas y artículos de reflexión teórico-conceptual.
El anuario reúne cerca de 300 páginas de temas relacionados con el papel de la enseñanza y el aprendizaje en el desarrollo sostenible; organizaciones de medios, distribuidores de información ylibertad de expresión; diversidad lingüística y diálogo intercultural; equidad de género y personas en situación de discapacidad; sociedades del conocimiento, medio ambiente, salud y agricultura. De esta forma, el anuario logra mostrar la manera en que la alfabetización mediática e informacionalse posiciona como herramienta para el desarrollo inclusivo y sostenible.