Media Literacy and New Humanism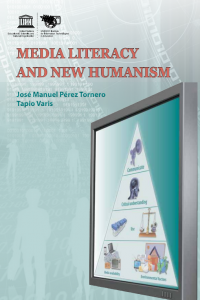 Los autores,  José Manuel Pérez Tornero y Tapio Varis, consideran las oportunidades que el alfabetismo de medios de comunicación abre en el mundo de educación global y comunicación en el contexto de nuevo humanismo. En opinión de los autores, el nuevo humanismo en la sociedad global debe priorizar un nuevo sentido de respeto por la multiplicidad y la diversidad cultural y debe apoyar el desarrollo de medios de comunicación con el objetivo de consolidar la nueva cultura de la paz.
Siendo aplicado a la educación, el concepto de nuevo humanismo sugiere la creación de una sociedad más global en la cual toda la gente tiene una posibilidad para tener acceso al conocimiento y la educación de calidad y cada palabra siendo oída en el diálogo universal.
Los autores se proponen responder a las interrogantes: "¿Estamos apoyando la hegemonía del modelo tecno- científico en la definición de un conocimiento legítimo y productivo? ¿Debería el término "era digital" ser reemplazado por mundo intercultural? ¿Cómo promovemos el espíritu del conocimiento compartido y la atención en el nuevo humanismo?".
El libro Media Literacy and New Humanism fue publicado en 2010 dentro de la series de monografías "Theoretical Aspects of ICT in Education". 
Autores: J. M. Pérez Tornero y Tapio Varis
Editorial: UNESCO Institute for Information Technologies in Education.
Contenidos:
Technological civilisation nd media culture
A new media awareness
The evolution in literacy
The media literacy movement
The conceptual framework of media literacy
The new media literacy curriculum: principles and objectives
Teacher training
New citizens, intercultural dialogue nd media literacy: an education for peace