Pérez Tornero expone los resultados de EMEDUS y FilmEd ante expertos de la Comisión Europea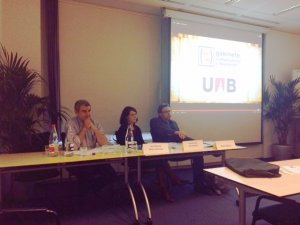 José Manuel Pérez Tornero expuso los resultados de EMEDUS y FilmEd en la reunión de expertos de Alfabetización Mediática (AM) de la Comisión Europea, que tuvo lugar el pasado miércoles 19 en Bruselas. 
El Director del Gabinete de Comunicación y Educación presentó también un informe orientado a medir la AM en España y que sintetiza la información cuantitativa existente.
La reunión, que tuvo lugar en las oficinas de la Comisión Europea en Bruselas, estuvo presidida por Matteo Zacchetti y Dag Asbjørnsen, representantes de este organismo regional.
Participaron además varios representantes de diferentes países europeos, entre otros: Paolo Celot (EAVI, Brussels), Carmen Buró (Mucho (+) que cine, Madrid), Georges Boade (UNESCO, Montreal), Gitte Stald (University of Copenhagen, Denmark), Renate Holubek (Austria), Tone Haugan-Hepsø (Medietilsynet, Norway), Norbert Vrabec (Fakulta Masmediálnej Komunikácie , Slovakia), Sergio Silva (Public Office for the Media, Portugal).
En estas reuniones, que se han venido realizando periódicamente durante 2013-2014, permiten que los diferentes países compartan sus proyectos de investigación sobre la AM y conozcan los de sus homólogos europeos.
A partir de las conclusiones del encuentro se propuso la realización de un informe común que integre todos los puntos de vista y resultados expuestos a lo largo de las reuniones.