FilmEd in the Media & Learning Conference, Brussels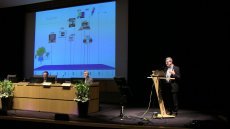 The FilmEd Project-Showing films and other audio-visual content in European schools - Obstacles and best practices (FilmEd) was presented in the conference Media & Learning  on December 12 and 13.
José Manuel Pérez Tornero explained the main project lines which will analyze film literacy experiences all over in Europe. He gave also a lecture focused on the audience and on the change our societies have gone through as media users: from being "outside" the media to experience in the 90s a process of hybridisation through which we are inside the media being able to manage our own consumption and knowledge through media literacy.
On the other hand, Sally Reynolds, MEDEA: EU Project Project manager and co-founder of the company ATiT (Audiovisual Technologies, Informatics & Telecommunications), FilmEd supporter defended the need of organizing these kindof meetings around eduction and media to talk about social challenges such as the use of new technologies among youth and their integration in society.
According to Reynolds, film literacy is an essential topic at the moment since it is now when projects such as FilmEd will help initiatives around this field to be known and film literacy to be promoted.
Several debates, workshops and round tables around the use of media for learning processes took place in this meeting that counted with 267 participants from 27 different countries.