The EMEDUS Consortium holds new project follow up meeting in Brussels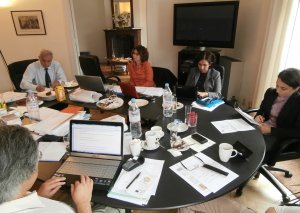 The EMEDUS Consortium held its latest meeting in Brussels on September 14 with the aim of providing follow up activities related to the on-going EMEDUS project. EMEDUS partners gathered to assess the onset of work packages 3, 4 and 5, focused on the assessment of media education in the areas of formal education, informal education and the inclusion of groups at risk of social exclusion.
Among the results of the meeting was the validation of work previously completed, such as the literature review developed as part of the second work package. Project partners also presented individual work in the form of communication events.
Notable among the above mentioned events was the presentation of the EMEDUS project at congresses such as MILID Week, held in Barcelona, and the annual meeting of the International Association of Media and Communication Research (IAMCR) which took place in South Africa. Juan Francisco Martínez, a senior research partner from the UAB, said that the latest meeting in Brussels was very useful in terms of strengthening integration and communication among EMEDUS partners.

Another proposal to encourage the development of the project was to hold meetings in Rome and Braga where two of the EMEDUS consortium partners are based.
The meeting took place at the headquarters of the European Association for Viewers Interests (EAVI) in Brussels. It was attended by Marco Ricceri, from the Institute of Political, Economic and Social Studies (Eurispes); Manuel Pinto, University of Minho; Barbara Kedzierska, Pedagogical University of Cracow; Klaudia Lászloová, School of Communication and Media, Bratislava; László Hartai, Institute for Educational Research and Development, Hungary (OFI) and Paolo Celot and Irena Panayotova of EAVI. The Autonomous University of Barcelona (UAB) was represented by Dr. José Manuel Pérez Tornero, senior researcher and director of the Department of Communication and Education, and Juan Francisco Martínez.
(Photos courtesy of Manuel Pinto)