The Paris Forum will bring together 300 experts and practitioners from around the world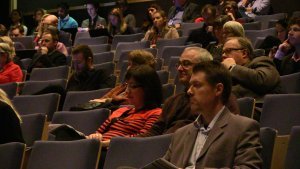 More than 300 experts from 56 countries from all continents will meet on 27 and 28 May at the European Media Literacy Forum.
Several Ministries of Europe (Germany, Slovakia, Italy, Lithuania, Mexico, Poland Nordic countries, Portugal) and the Ministry of Education of Mexico; several film libraries and film festivals have confirmed their participation in this international event to be held at the headquarters of UNESCO in Paris.
17 representatives of state organizations of various kinds and various fields of industry will participate in the conference, according to entries made so far.
Various regulatory authorities of Portugal and Spain, as the ERC - Entidade Reguladora para a Comunicação Social and the Audiovisual Council of Andalusia, will also come to the appointment.
Near to 70 universities   will also present the results of their research event.Delegations from other continents, especially   Latin America and Africa, will also participate in the forum.
Participants to this event (confirmed today) will come from different countries, such as Algeria, Armenia, Austria, Belgium, Bosnia and Herzegovina, Brazil, Burundi, Canada, China, Colombia, Cuba, Croatia, Czech Republic, Denmark , Egypt, England, Spain, Estonia, Finland, France, Germany, Greece, Hungary, Ireland, Israel, Italy, Kosovo, Lithuania, Macedonia, Malta, Mexico, Montenegro, Morocco, Nederland, Nigeria, Netherlands, Poland, Portugal , Qatar, Quebec, Romania, Russia, Scotland, Serbia, Singapore, Slovakia, Sweden, Switzerland, Gambia, Tunisia, Turkey, United Kingdom, USA
The organization has invited professionals from leading institutions in the field of policy, research, education and industry to participate in this event, in order to present and discuss the current state of media literacy in Europe and encourage the creation new projects.
In the forum's website further information can be found about invited institutions and participants on every table.