Marko M. Skoric impartirá un seminario sobre predicciones de opinión pública y redes sociales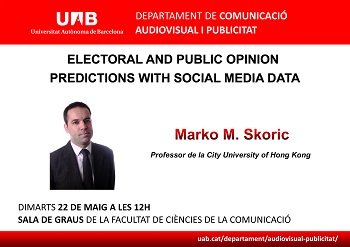 El profesor de la City University of Hong Kong Marko M. Skoric visitará el martes 22 de mayo la Facultad de Ciencias de Comunicación de la UAB para impartir la conferencia Electoral and Public Opinion Predictions with Social Media Data. El acto tendrá lugar a las 12h en la Sala de Grados de la Facultad.
Skoric, Doctor en Comunicación por la Universidad de Michigan, es experto en nuevos medios y cambio social y sus trabajos de investigación se centran en las implicaciones cívicas y políticas de las nuevas tecnologías de la comunicación. Sobre todo esto versará su conferencia, a través de la cual quiere examinar los fundamentos teóricos y metodológicos de la investigación sobre opinión pública.
El acto, dirigido a toda la comunidad académica y a estudiantes de Máster y Doctorado, está también abierto a todos los interesados en el tema. Para inscribirse se debe mandar un correo electrónico a doctorat@cap.cat.