Millennials, News, and Social Media: Is News Engagement a Thing of the Past?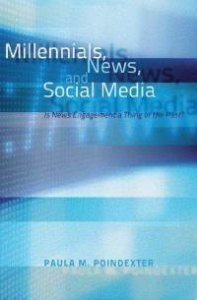 ¿El compromiso informativo es un fenómeno del pasado? Esta es una de las preguntas claves de la profesora de la Universidad de Texas Paula Poindexter en este libro, donde analiza los rasgos de una generación que ha vivenciado el declive de los medios tradicionales y el auge de los nuevos medios.
Esta publicación ofrece una visión de los factores que determinarán si vamos a ser una sociedad de consumidores de noticias y ciudadanos que valoran estar informado o donde el bajo perfil de información es la norma. Los malos resultados en este sentido suponen consecuencias nefastas para medios de comunicación, es, las escuelas de periodismo, la concepción tradicional de la democracia, y la vida cotidiana de las personas.