El Gabinete presentará EMEDUS y FilmEd en la Conferencia Media & Learning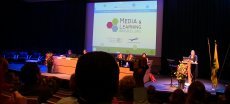 El Gabinete de Comunicación y Educación presentará los proyectos European Media Literacy Education Study (EMEDUS) y Showing films and other audio-visual content in European schools - Obstacles and best practices" (FilmEd) en Bruselas. La presentación tendrá lugar en el marco de la Conferencia Media & Learning, que se celebrará en esta ciudad europea los próximos 12 y 13 de diciembre.
Un grupo de investigadores del Gabinete encabezado por José Manuel Pérez Tornero, director del Gabinete e Investigador Principal de EMEDUS y FilmEd, presentará ambos proyectos en la mesa European Research into Media and Film Literacy. El equipo está integrado además por los investigadores Juan Francisco Martínez, Laura Cervi y Lidia Peralta; y por Alodia Quesada, del equipo de comunicación.
Diversas charlas, debates y talleres en torno al tema del uso de los medios de comunicación con objetivos de aprendizaje tendrán lugar durante el evento. Participarán allí responsables políticos, proveedores de servicios y profesionales del ámbito de la educación en medios. 
Durante una sesión plenaria Pérez Tornero ofrecerá también una presentación sobre los resultados del proyecto EMEDUS, con la conferencia Un nuevo horizonte para la alfabetización mediática en Europa.